100 Years of Gerlach's Bowling Center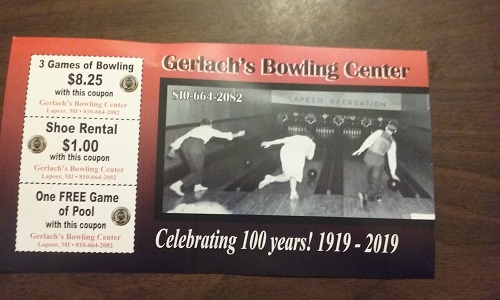 From early 2001 to mid 2003, I lived in one of the apartments above Gerlach's Bowling Center. Dan Gerlach was my landlord. I had been under the impression that he had started Gerlach's Bowling Center in the 80's. I got this ad in the mail today and I realize Gerlach's Bowling Center is an old family business that has been handed down for generations. It was probably Dan's grandparents who started the business.
We don't need the Pits or the Lanes or any other seedy bowling alley that can't stay in business or burns down, we got Gerlach's. Gerlach's has been good business in Lapeer since 1919. You got to respect that.
I heard that after the fire at the Lanes, Dan opened a bar at Gerlach's. I should stop in for a beer and bowl sometime.