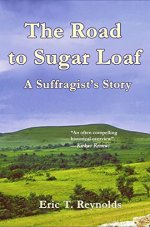 The Road to Sugar Loaf, by Eric T. Reynolds, is a novel about the Women's Suffrage movement. Largely set in the Flint Hills of Kansas, we follow a group of friends as they fight for a change that was once thought impossible, women's right to vote. It was a hard, long battle.
Eric also understands the disability struggle. Some of the things said in reference to Kathryn stung me personally.
What I really want to see is more work by people with disabilities about life with disabilities. I've seen very little of that. I feel that the disability community has less of a voice than any other group, and that's what I've been fighting to change.
While The Road to Sugar Loaf was really about Women's Suffrage, I appreciate that Eric's lead character was a person with disabilities. I would like to encourage him to continue with that pattern and perhaps write about living with disabilities on a deeper level.
I liked this novel very much. It was a fine read, and it stirred my emotions quite a bit.