The Artifacts, by Eric T. Reynolds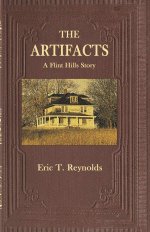 Don't be a cube. Pick up a book and go back in time.
Remember the line from the Reading Rainbow song, "I can go anywhere…"? That's more or less the case with The Artifacts, a novel by Eric T. Reynolds. I found this book quite fun.
Kayla buys a Victorian house on the outskirt of Sycamore Falls and moves in. Her property is vast and it includes the highest of the Flint Hills. On top of this hill is an old farmhouse that has not been lived in for generations.
In the farmhouse, there is a library with books that will take you back in time. When Kayla discovers this library, she is unable to resist going back to the earlier days of Sycamore Falls. She learns much about the town and secrets are unlocked.