Defiance (2009)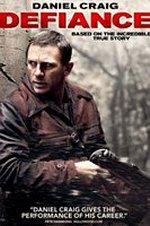 It's 1941. Germany occupies Belorussia. The Jews are rounded up. Within weeks 50,000 are murdered and a million more will be deported.
Defiance is based on the true story of the Bielski brothers who are credited for saving 1,236 Jews from extermination.
Zus and Asael Bielski return home to find their parents murdered and their youngest brother, Aron, hiding in a cellar with a knife. The three head to a familiar location in the Lipiczanska Forest. That's where Tuvia, the eldest brother, finds them.
Later, Aron finds a small group of people in the woods. He leads them to his brothers and the brothers agree to let them stay. As time passes more people make their way through the forest and the group grows.
They are all Jewish. All of them are fleeing the Third Reich. Tuvia becomes the leader of the group and welcomes new arrivals. His role comes with heavy responsibilities that he takes very seriously. He puts a system in place to make it easier for the growing community to survive.
Every member of the community has to work. Everyone is assigned to a job. Everyone also learns to use guns. The Germans are hunting them. There are several conflicts between the Bielski Partisans and the Germans.
I've watched Defiance several times over the last few years. It is one of my favorites. It's a very convincing movie and one I recommend.