Supremacy (2014)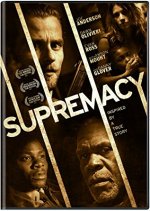 I watched Supremacy for the first time a few days ago. I'm watching  it again right now as I write this. I'm multitasking.
Supremacy is a true story. In 1992, Garrett Tully was released from prison after serving a fifteen sentence. Tully is a white supremacist and he has the ridiculous views that white supremacists have. On the way home, during a traffic stop, Tully murders a police officer and flees the scene. Tully and the woman he is with go to a house and take the family hostage.
Danny Glover is the actor I'm most familiar with in this movie. I think I've seen them all in other movies at one time or another, but I know Danny Glover best. In Supremacy, Glover plays Mr. Walker, the stepfather of the family Tully takes hostage. Mr. Walker is an ex con who is walking the straight line now.
Because Mr. Walker is an ex con. he understands what Tully is going through.
Several scenes got to me emotionally, especially the ending.