The Seer's Choice: A Novella of the Golden City, by J. Kathleen Cheney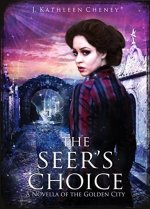 A decent novella by J. Kathleen Cheney. The Seer's Choice: A Novella of the Golden City is set in Europe (I'm not sure if it's England or Spain or some other country, but it's definitely Europe.). The year is 1903, so you get that whole Victoria feel.
There are two point-of-view characters, Genoveva and Rafael. Both of them are police officers, but they're part of a special unit. All the officers in the special unit are witches of sorts. Genoveva is a healer. She has the ability to heal people simply by laying her hands on them. Rafael is a seer and he can see the future, though his visions are not always clear.
A madman is stalking Genoveva. The madman has powers of his own that are apparently deadly. It is believed that he wants to hurt  Genoveva because of what her father did to his son years ago. Genoveva  and Rafael work together and try to capture the madman.
It was a fun read. A nice mystery-fantasy mix. I enjoyed the Victoria setting. Well done.
This song came to mind while I was writing the review: