Jackie Brown (1997)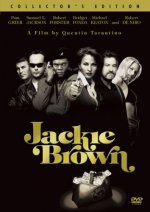 I had heard of Jackie Brown. I've even seen bits of the movie here and there, but I've never watched the whole movie straight through until last night. First off, Quentin Tarantino is an artist. Every one of his movies that I've seen has a very elegant artistic touch to it. Think of Pulp Fiction, Django Unchained and Desperado. The angles of the pictures, the motions of the actors, the shuffling of the scenes, the twists of the stories and just the right amount of comedy, all of it comes together to make a brilliant work of art. It's like looking at the painting of Mona Lisa and knowing that there's more to it than what meets the eye.
Samuel L. Jackson played the bad motherfucker again. Except in Jackie Brown, Jackson's character, Ordell Robbie, was not quite as bright as Jules Winnfield was in Pulp Fiction. Ordell Robbie also lacked the degree of honor that Jules Winnfield had. Ordell Robbie was more of a bad, bad, bad motherfucker. Bad! Your dog shit on the brand new carpet kind of bad. He took several opportunities to remind us of that.
Pam Grier played Jackie Brown and the movie opened with her walking through the airport dressed in a stewardess uniform. Jackie Brown was the key character in a heist to steal a large sum of money. She was a tough character with a survivalist instinct that gets her out of trouble. Jackie Brown outsmarted Ordell Robbie and the ATF.
The movie ended with an emotional, not entirely happy note.