An Extremely Goofy Movie (1999)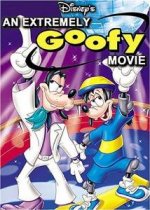 Sometimes I'm just in the mood for something more colorful, and what's more colorful than cartoons? I went on Netflix and looked through the Children & Family movies that Netflix recommended.  Most  of them were animated movies, some by Disney and some by other production companies. There were several I had already seen and several more that I hadn't. I decided to watch An Extremely Goofy Movie. I remember A Goofy Movie and I liked it, so I thought I might like an extremely goofy movie.
And I did. It was quite ridiculous, but enjoyable. It was just right for my numb mind. I really wasn't in the mood for anything smart. I wanted something fun, relaxing and… ridiculous.
In An Extremely Goofy Movie, Max is grown up. Can you believe that? How long ago was Goof Troop? I used to watch that, even though I was well into my teens around the time it was airing. So, Max grew up, along with P.J. and Bobby. He's in college, though he never did lose his passion for skateboarding. In fact, Max, P.J. and Bobby are a team competing in the college's X-Games.
Goofy, after losing his job, decides to go back to college and get a degree. Max, of course, is horrified when his daddy shows up in groovy 70's garment and sporting an afro the size of a beach ball. That might have been the style back in the day, but it isn't quite fitting for Max's 1999 college paradise. Needless to say, Max isn't thrilled to have his dad on campus with him, you know, because his dad embarrasses him.
Goofy quickly becomes popular when he accidentally does some awesome stunts on a skateboard in front of the school's X-Gamers and fans. Max, eager to have his dad out of his way, encourages Goofy to join the team of his rivals. And things get more crazy, ridiculous and fun from there.
At one point in the movie, Bobby asked a very interesting question. "Hmm?" he said. "Do you ever wonder why we're always, like, wearin' gloves?"
That prompted me to go looking for the answer on why cartoon characters often wear gloves. Turns out the tradition started way back when Mickey Mouse starred in Steamboat Willie. Disney had problems drawing Mickey's hands and found it easier to draw them with gloves. Also, in the day of black and white pictures, it was hard to see the character's hand gestures or what they were touching, etc, and I guess the white gloves helped with that. Some studios just wanted to keep that tradition going.
——————————————————–
Someone from The Collectionary emailed me and expressed an interest in featuring this blog entry on their very popular Goofy Facebook Page. The Collectionary is a company that promotes items for avid collectors and they have a department for Goofy items. I couldn't see any reason not to go for it. In exchange for their featuring my blog entry, I'm linking to their site.