Wings (1927)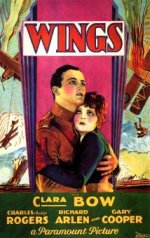 The other day I watched Wings, the movie from 1927. Wings is a silent film. Music was used to set the mood. Character dialog was not heard, but instead appeared occasionally in decorated pictures between quotation marks. The movie is from a time when the advanced technology of today was difficult to imagine and Grandma and Grandpa Piehl were six years old.
And it was a pretty good movie. Mind you, Wings isn't the first old silent movie that I've paid attention to, but it is one of the best. It's a story about friendship, love and war. The characters were believable, even though I had to rely on their facial expressions to gather what was going on because not all of the dialog was displayed..
I'm impressed at how good some of these old movies can be. I've seen a lot of old movies that really sucked. I used to think it was because they didn't have the technology necessary to make movies that would look good to people who've seen the modern films. But then there's movies like Wings that blow me away.
One thing I keep noticing when watching old movies: People weren't much different back then than they are today. I see all the different behaviors, beliefs, attitudes, etc, being featured in these old movies. And that tells me that people today aren't any better or worse than they were in the past.