A Feast for Crows, by George R. R. Martin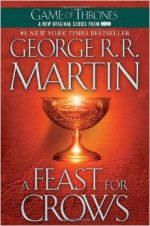 I finished reading the fourth book of George R. R. Martin's Ice & Fire series. It's been about ten years since I read the third book, A Storm of Swords, but I remember the story well and there was no need to reread the first three books before starting A Feast for Crows.
Cersei Lannister is still the character who pisses me off the most. Oft times I want to reach into the pages a strangle that golden haired bitch. That ego of hers is unbelievable. Though, I confess, at the end of Feast I found myself feeling bad for Cersei in her current situation, though I can't deny that she deserved what she got.
Jaime Lannister became one of my favorite characters in the earlier books and he still is.
Catelyn Stark, what the fuck? I'm very disappointed in you. You think Brienne betrayed you? No, Lady Stark, you betrayed Brienne. I can't think of anyone in Westeros who is more loyal than the Maid of Tarth.