The Magic of Belle Isle (2012)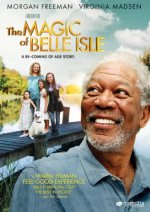 One of my favorite movies is The Magic of Belle Isle. It's one of those movies that I find comforting and easy to settle into when I'm not in the mood for something overly exciting. It's just a simple down-to-earth story, about life that we recognize.
Morgan Freeman plays Monte Wildhorn, a man in a wheelchair who appears to have full use of only one of his arms. He's also a drunk and a famed novelist who has not written anything since his wife died years ago.
Monte moves into a small house for the summer. He's bitter, he complains, and he's often drunk.
In the house next door, there's Charlotte, who is going through a divorce. Charlotte lives with her three daughters, Finnegan, Willow and Flora.
When Don,  one of the neighbors, dies, Monte is invited to the memorial that Al, another neighbor, is having at his house. Monte reluctantly shows up for the memorial. There, Monte meets Finnegan, who is nine and a half years old and allowed to carry her own pocket knife. When Finnegan learns that Monte is a writer, she decides that she wants to learn how to write and Monte agrees to teach her.
Monte gets to know the rest of Finnegan's family and other neighbors. He becomes a friend to some and helps them in their times of need, and they teach him something in turn.
My favorite quote from the movie came when Monte read Al's speech to the people at Don's memorial. That quote is "He took beer very seriously. It had to be Pabst Blue Ribbon. If it couldn't be Pabst, it at least had to be cold."