My First Deer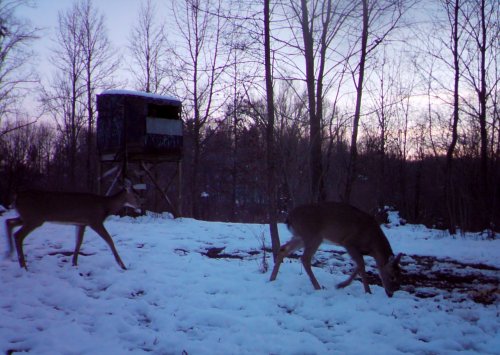 Well, this entry is a week late. During firearm season, I tend to fall behind on chores, writing projects, blogging and reading. But here's the gist. On November 24, seven days ago, I went from being a hunter who never harvested anything to a hunter who harvested one deer.
Let's see…. When I was younger, I hunted irregularly. I was thirteen the first time I hunted. My dad, brother Fred and I went Up North with our cousins Greg, Paul and Dean to hunt on Greg's property deep in the woods. We camped for about a week and hunted turkey. No one saw any turkey, but that hunt is still one of my best memories.
After that, I'd hunt on the property I grew up on maybe once every few years. But I wasn't really into it. I didn't really apply myself. I'd go out only once or twice a season and sit for maybe an hour, get bored, pack it up and come in. Oh, and of course, I didn't see any deer.
About five or six years ago, I started hunting for real. I'd go out to hunt as often as I could and sit for hours. The first couple years, I didn't see anything. Nothing at all. But the last few years I'd see one or two deer per season. But they were always doe and I didn't have an antlerless license.
Well, this year was different. Maybe it had something to with me deciding to replace the metal  folding chair that had always been in my shack with a plastic patio chair. The metal chair would often squeak when I shifted my weight. The plastic chair is silent no matter how I move.
I started seeing deer only a few days  after I switched to the plastic chair. The first deer I saw this year was a doe. Since I got an antlerless license this year, I was going to shoot it, figuring it was the only deer I would see this year. But I so stupidly had my gun leaning against the wall instead of my leg where I usually have it leaning. When I picked the gun up, the barrel scraped on the wall.
At the sound of the gun scraping on the wall, the deer lifted her head and stared up at my shack. I froze and prayed she would go back to eating the corn on the ground. She didn't. She turned away and walked toward the trees. But then she turned around and started back to the corn.
That was when I pointed my gun at her. But before I was comfortable with my aim, she started running.
I was pretty disappointed. I finally saw a deer and I spooked it. I didn't think I'd see anymore deer this year, but two days later there were two deer in front of me. Both were doe. This time I had my gun resting on my leg instead of leaning against the wall. I watched the two deer for about ten minutes. I waited until one of them turned so that its side was facing me.
I silently picked up my gun, aimed at the spot above the deer's front leg and fired. I guess I missed because both deer ran off and I couldn't find a blood trail. There was snow on the ground, so finding blood should have been easy. I must've jerked the gun upward a little as I pulled the trigger and missed the deer by a few inches.
So, shit, I had two chances to harvest a deer and I blew it both times. I thought I definitely wouldn't be seeing anymore deer after that.
But the very next day, I'd been in my shack for less than an hour when a doe came down the path toward me. The doe was skinny, so I decided not to shoot and let her eat all she wanted.
She ate for about ten minutes, and then peacefully walked off like there was nothing to worry about. About ten minutes later two more deer walked to the corn. And then there was a third deer, and then a forth. They were all eating right there in front of me. Whenever one deer finished eating and walked away, another deer would come out of the trees and take its place.
I watched them. Some of them were bigger than others. I wanted to take a big one, but there were some factors that prevented me from having a clean shot. They would not turn their sides to me, or there was a smaller deer in front of them that I didn't want to accidentally shoot, or they just wouldn't stand still.
I think it was fifteen to twenty different deer that rotated in and out of the woods. I had up to six of them in front of me at one time. Finally they all finished eating and walked off. I was disappointed that I didn't get a shot at any of them.
About twenty minutes later two more deer came out of the trees and approached the corn. That's the two deer in the picture above, which the trail camera took. I wanted the deer on the right because it looked a little fatter, but the deer on the left kicked it away from the food and I didn't have a clean shot. So, as soon as the deer on the left turned its side toward me, I picked up my gun, aimed and fired.
The deer on the right ran off, but the deer on the left was frozen in place. It stood still for a few seconds, and then its back legs collapsed. It held itself up on its front legs a few more seconds, and then fell on its side.
I couldn't believe it. I didn't miss. It was a direct hit.
I climbed out of the shack and carefully approached the deer. It rolled around for a while, but soon it was dead.
I thought it was a doe, but as my dad and I were field dressing it, we found out that it was a button buck. I felt bad about that. Although it's legal to take button bucks, it's something you don't want to do. Because everyone wants to let the bucks get big and grow antlers.
I felt like I did something wrong and I was afraid I would get a lot of criticism over it. But after talking to some very experienced hunters I know, I found out that, although they try not to, sometimes they take button bucks themselves. Sometimes it's just hard to tell a button buck from a doe. If you get a button buck, it's all good.
So, I felt better about it. Getting my first deer is a big thing to me. It was something I'd been trying to do for a long time and finally I've done it. It wasn't a very big deer, but it did yield me quite a bit of meat, which I just got from the butcher today.