The Essential W. P. Kinsella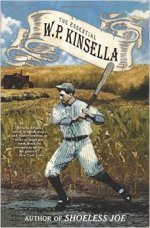 Probably everyone has seen the 1989 movie Field of Dreams, starring Kevin Costner, Amy Madigan, Gaby Hoffman, Ray Liotta and James Earl Jones. To me, Field of Dreams is one of the most powerful movies ever made. W.P. Kinsella wrote the novel Field of Dreams is based on. That novel is Shoeless Joe, which I read and reviewed last year. I love the book as much as I love the movie.
Shoeless Joe is Kinsella's best known work, but he has written six other novels and, I hear, over two hundred short stories. The Essential W. P. Kinsella was released from Tachyon Publications in March. It's four hundred pages of some of Kinsella's best short stories.
Much of Kinsella's work combines baseball and magic, as is the case with some of the stories in The Essential, but magic isn't present in all of these stories and neither is baseball. Nonetheless, they are all magical in their own way.
Some of the stories were joyful and some were sad, all of them were convincing. Some took me through the struggles of minor league players hanging in there, trying to stay out of trouble, while waiting or hoping for the day they are called up to the Bigs. And there was a story about two retired Major League players living together in an apartment, one of them reuniting with his loved ones who died years ago.
And there were stories about divorced men finding love again. One such story ended on a sad note and was dedicated to Kinsella's wife who died in 2012. I felt his pain while reading that one.
Kinsella has a gift for getting emotions across in his writing and every one of these stories, no matter the subject, was rich with emotions. I loved them all.