Shoeless Joe, by W. P. Kinsella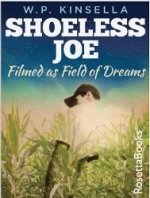 If you know me, you know I love baseball. I practically worship baseball. It's like a religion to me. My team is the Detroit Tigers, but I love the game so much that I'm often happy to watch any teams. It doesn't even have to be Major League teams. I'll watch the minors, college, independents, even little league teams. And I like all things that have to do with baseball. Field of Dreams, starring Kevin Costner, is one of my favorite movies. Shoeless Joe, by W. P. Kinsella, is the novel Field of Dreams is based on.
As is usually the case, the novel is not quite like the movie. There are plenty of differences between the two. But the movie is still an excellent adaptation of the story Kinsella wrote. Shoeless Joe is like the Baseball Bible. If you want to understand my insane love for baseball, read this book.  It talks about several interesting pieces of baseball history and, through dialog, it explains why baseball is so important to people like me. There's also a very nice touch of humanity that is shared by several characters.
I absolutely loved this book.