Inside the U.S. Secret Service (2004)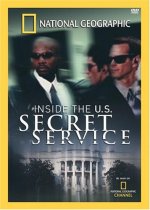 There are a lot of documentary movies that bore me to tears, but National Geographic's Inside the U.S. Secret Service is not one of those movies. This movie is an excellent, very interesting and educational documentary. I'm glad I decided to watch it. I almost didn't bother. I had tried to watch several other documentaries on Netflix that sounded interesting but turned out to be so dull I couldn't finish watching them. But National Geographic did it right with Inside the U.S. Secret Service.
Inside the U.S. Secret Service is a close look at the agency that protects the President of the United States. The movie walks us through the history of the agency, some of the tactics the agency uses and how it operates. Of course there was a lot of information that could not be revealed. The Secret Service can't have people knowing their secrets because that would very likely make their job more of a challenge than it already is. And make no mistake, the job of the Secret Service is extremely challenging. It's hard not to appreciate the work these men and women put into protecting the President, his family and anyone else who requires the protection of the Secret Service.
I learned so much from watching this movie. This was something I needed to see, it gave me a new understanding of the Secret Service and the lives of the people they protect, especially the first family. Did you know that anytime you see the President walking across the White House lawn on TV, the bushes in the background have agents hiding in them, watching the President's every move? No one can see the agents in the bushes, but they're there.
The President and the first family receives a lot of death threats. We don't hear about these threats much, but they are countless. Probably most of the threats are from people who don't actually have the balls to carry them out, but there are enough threats from people who would assassinate the President if given the chance. Since the beginning of our country there have been assassination attempts on United States presidents. Four of those presidents were killed, others were wounded and several narrowly dodged the bullet. The Secret Service is necessary and critical to the President's survival.
The movie also makes it clear that the agents are human and not the stone cold robots they're often thought to be. Several agents were interviewed, as well as some of the former presidents and their children. They all provided insights on what it's like to be in the bubble of protection. The Prisident is a moving target, under constant threat. The Secret Service makes it possible for the President to do his job.