This Old Tractor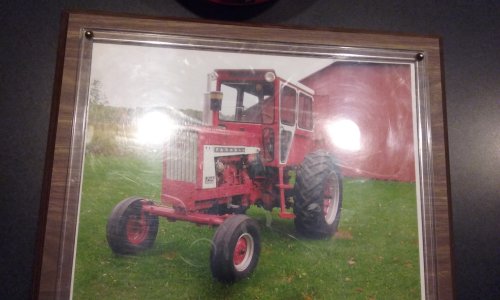 I started driving big tractors probably when I was fourteen. We went through a few of them. At one time, we had one from the 1940's that ran very well for it's age. I guess I had a particular interest in operating tractors, because I was often the one doing it. I pulled the plow, the brush hog and trailers with fencing supplies or junk we were cleaning up and so on, and sometimes I drove them around the field for fun.
This international tractor here was my favorite. It had belonged to my dad's uncle. We bought it, I think, when I was in my late-teens. We also bought other farm equipment. At the time, we wanted to plant hay and corn, and increase our livestock. That plan fell through, but the tractor was still useful.
These big tractors are not like cars. Their controls are different. They have a lot of power. Once my dad hired a construction crew to bury an old concrete porch. The crew was using a huge dump truck to pull the porch into the hole next to it, but they got the truck stuck and couldn't get it out. So, my dad got the tractor and pulled the dump truck out like it was a feather.
I was disappointed when my dad decided to sell this tractor, but he had bought a new tractor. Although the new tractor wasn't as big or powerful as this one, it suited all of his needs.