If Goldilocks would stop using my tower, that'd be great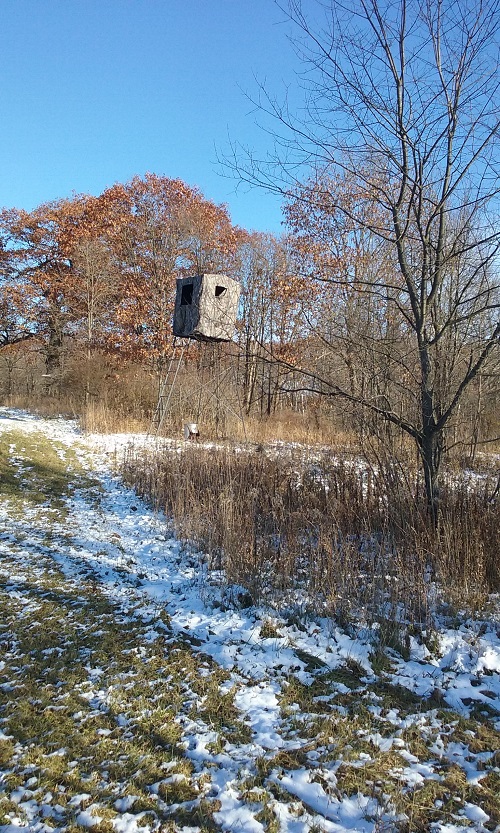 I didn't hunt today, but I went out to my hunting ground with 100ft tape measure, because I wanted a better idea of how far from my tower I could place my bait and expect to get a clean kill. I want to place my bait between 50 and 75 yards from the tower. 50 and 75 yards is pretty far for me. The deer I killed before were no farther than 50 yards.
During the bow season, I mostly faced the field. For the firearm season, I'd like to face the other way. I'd be looking toward the Bat Shack and the edge of the woods. Unfortunately, there's a tree that would block my shot. It's not a big tree, but it has branches that would be in the way. I'll probably cut the tree down tomorrow.
I haven't gotten out that much during the bow season, and I haven't made it out at all in the morning. My hunting times have been from around noon to sundown. I always close the windows and the door when I'm done hunting for the day.
A couple times when I went out, I found the front window wide open, the door wide open and the side window opened a little. Such was the case today. Also, I had a big piece of cardboard on the floor, so that when I sat something down, it wouldn't make noise on the steel grate. The cardboard was gone today.
So, yeah, I think someone's been using my tower, probably in the mornings.
Look, I'm sorry you don't have a place of your own to hunt, but this ground is mine. No one is allowed to hunt on this ground without my permission. Now, I can invite anyone I want to hunt on my ground, but I did not invite you.
If I'm right about Goldilocks invading my hunting ground in the morning, he'll get a surprise tomorrow. I plan to be out there very early. Tomorrow is opening day for firearms.