Of all the crap on my coffee table, why is there a squirt gun and binoculars?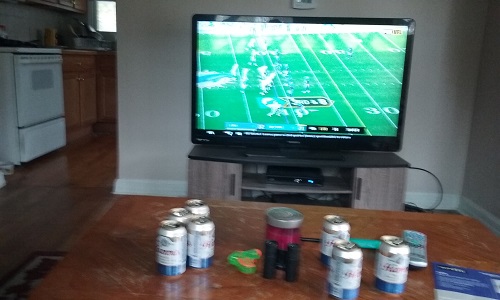 I actually bought a package of cheap squirt guns years ago, to keep my pets off my couch. It worked, with Buddy. Luci was always good about getting off the couch when I told her to. But Buddy. tell him to get off the couch, or try to push him off, and he just rolls over. Buddy is a large cat, probably weighs around thirty pounds, and pushing him off the couch is not easy.
But I found that one shot with a squirt gun is all that's needed to get Buddy off the couch. I should've stuck with that, but I didn't. So, I'd get dog and cat hair on my couches and then, eventually, Buddy would pee on them. I now think Buddy peed on the couches because of stray cats coming near the house. The couches were always near windows. He never peed on my armchairs, which were never near windows. So, I think it was stray cats.
Anyway, after getting this couch and chair from my mom and dad, even though I have waterproof covers on them, I decided I'm going to try keeping my pets off them. Luci hasn't even gotten onto them yet, but she might the first time I leave the house.
Buddy had gotten onto the couch and chair a few times. When it was too difficult to push him off, I remembered the squirt guns. I loaded one and shot him once, and off he goes. I think he's getting the message. He's now lying in the pet bed next to my desk.
And the binoculars. I bought the binoculars a few weeks ago. Although I can see the game just fine from across the room, my eyesight is such that I have difficulties seeing the scores and the clock, or whatever, from across the room. I always had to get up and move closer to the TV to read that information and I was tired of it.
So, I came up with a solution. I bought these binoculars for seven bucks. Now when I want to see the score or the clock, or the inning or how many outs, or any of the information,  I don't have to get up. I just lift the binoculars to my eyes and look.
The Lions beat the Dolphins, 32-21.