On Plumbing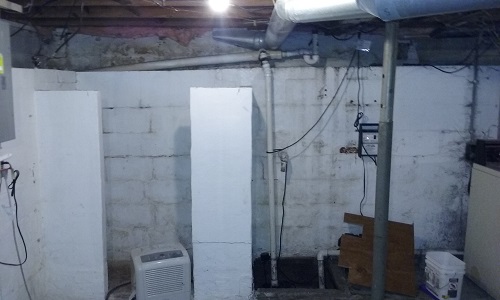 Last week, I told you about a plumber coming here and getting the kitchen sink to drain again. Well, two days later, the kitchen sink was starting to drain slow again.
On Saturday, my dad was here and we were going through the house fixing things. We discovered another plumbing problem.
In the basement, the sump pump appears to be pumping into the main sewer line, but after a few minutes of the laundry tub draining into the sump basin, the sewer line backs up and starts overflowing out of the water softener drain and running down the basement wall.
My dad and I figured there might be an obstruction in the mainline. I informed my landlord. Today, a guy from a sewer cleaning company was here. The guy worked on the kitchen sink first and it's draining very well now, though I can't say if it'll keep that up.
He said they're going to have to cut the mainline in the basement, to work on that pipe. Also, he found a break in the mainline, outside, where it goes under the ditch at the edge of the property. He said they'll have to dig that up and fix it.
The break in the mainline is why I've been having these plumbing issues.