Coffee Table on the Curb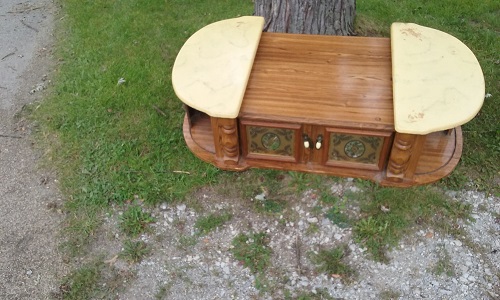 I'm doing some deep cleaning today. I cleaned off this coffee table. But then I thought, "Do I really need this table anymore?" It had been against the wall for a couple years now, since I got a much bigger coffee table (you can see it in my latest beer picture.) Pretty much all the old table was good for was storing board games and taking up space.
I decided to put the board games somewhere else and get the table out of here. So, now it sits on the curb. It's a beautiful table, but there are some cracks and scratches on it. Also one of the doors on the side is missing.
Maybe someone passing through the neighborhood will want it. If not, Rick Rhein will eat it on Wednesday.