That's Weird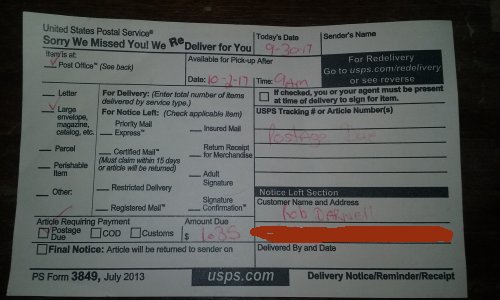 I just found this in my mailbox. It's one of those slips that the mail carrier leaves when the person sending you something didn't purchase the right amount of postage. So, it falls on you to pay the postage "before" the mail carrier will leave the package.
I don't know what this is. Everything I was expecting has already arrived. So, this isn't something I ordered.
All I can think is, I have a lot of short stories on the market this year. Several of the markets I submitted to are "pay on publication", which means they pay you when they publish your story. I think sometimes such markets send the payment along with the issue your story is published in without contacting you first to let you know you're in.
But I don't know that for sure and I'm reluctant to pay $1.35 for something to be delivered when I don't know what it is.