A Fearless Heart, by Thupten Jinpa, PhD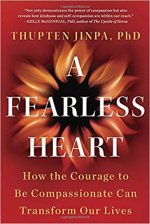 My friend Kathy recommended this book. A Fearless Heart was written by Thupten Jinpa, a former monk and the current principal English translator for the Dalai Lama.
When I finished the book, my thoughts were in a jumble and I had to take some time before starting my review. I really appreciated how at the end Jinpa wrote, "It is my sincere hope that some of the reflections and suggestions offered in this book may help you and others like you…." That told me that Jinpa would understand if I'm struggling to come to terms with some of the  things he wrote about. That sentence made it clear that Jinpa is not a know-it-all claiming that his way is the only way. He is sincerely trying to help people like me to have happier lives.
It's no secret that I don't feel at peace much of the time. I think I do an all right job of being compassionate toward others, but I fail in that department often enough. I'm terrible at being compassionate toward myself. I'm often angry with myself. I call myself a number of awful things every day.
A Fearless Heart is about compassion, mostly. Compassion for others and compassion for yourself. Be more understanding and patient to others, even when their views are very different from your own, and be more accepting of yourself.
A lot of what Jinpa wrote made sense to me. I highlighted several passages and put in notes telling myself to "remember this". I might look through the book from time to time and find those highlighted passages that made the most sense to me.
I admit that I'm a little overwhelmed and frustrated by this book. I would love to be a more compassionate person, to others and to myself. I agree that being more compassionate can make me a happier person. But I fear I'm already so far gone that there is no hope for me.
I'll just have to do my best.