Storm Front, by Jim Butcher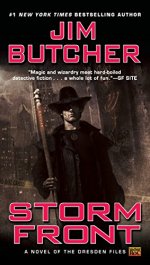 Well, Jim Butcher knows his stuff. Storm Front is a fun book. It's also disturbing and hilarious in all the right ways.
Harry Dresden is a private detective and a wizard. His cases are usually petty. He takes on missing person cases and lost item cases, and the such. But sometimes the police consult him when a case they're working on is so far out they can't make sense of it. That's how Harry finds himself involved in a mysterious murder case.