From Pawns to Kings, by Eugene Brown & Marco Price-Bey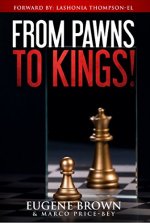 I first heard of Eugene Brown when I saw the movie Life of a King, which stars Cuba Gooding Jr. I thought it was a powerful movie. I agree with Gooding, what Brown does is heroic.
Eugene Brown and his son Marco Price-Bey wrote From Pawns to Kings together. Some chapters were written by Eugene and some were written by Marco. We learn about Eugene's childhood, his upbringing and how he turned to crime and drugs.
Marco's followed in his father's footsteps and they both spend a lot of time behind bars. But now they're both free men and they've turned their lives around.
There's a lot of wisdom in this book.