A Life In Parts, by Bryan Cranston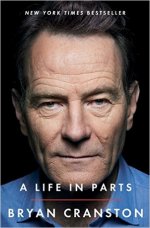 Bryan Cranston is best known for his role as Walter White on AMC's Breaking Bad. In his book, A Life In Parts, Cranston recounts his life from childhood to his time after Breaking Bad. We learn about his struggles with anxiety and his pain, and we learn about his work.
Although Cranston didn't actually say so in these words, I felt that many times he was saying the same thing I've been saying: "Do the best you can, hope for the best and see what happens." It's been kind of a motto for me.
Cranston didn't expect he would be a success. He didn't know Breaking Bad would be the hit that it was. He just gave it his all and look what happened.
Another thing I came away with is that people at the top of the ladder, no matter how much experience they have, they are often wrong. Directors and networks, and so on. The people who sit at the long tables and make the big decisions. There were times they didn't feel Cranston was right for the role or that his work sucked. But he got the part because someone would believe in him and fight for him.
Once in the role, Cranston would prove the higher-ups wrong. This was the case with Breaking Bad and it was the case with Malcolm in the Middle. Cranston showed those who didn't believe in him that he was the best man for the role.
I apply that to writing, and pretty much anything else too. Some editors might think your work is terrible, but other editors might disagree with them. In the past, I would feel that if one editor didn't like my work, the work was shit and no one was going to want it. I threw away a lot of stories that were probably fine. These days I keep my work on the market until it sells, because editors ain't always right, just like directors, networks and producers ain't always right. Not even doctors are always right.
The message I get from Cranston's book is, if you want it, work for it and you just might get  it.
Don't give up.