Lucky Number Slevin (2006)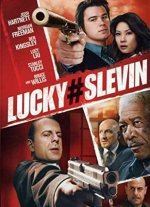 So, a few days ago, I discovered Lucky Number Slevin on Netflix and have watched it three times since. It's another badass movie. Stars Bruce Willis, Morgan Freeman, Ben Kingsley, Josh Hartnett and Lucy Liu.
Slevin's luck has gone bad. All in one day, Slevin loses his job, finds out his apartment building is condemned, he goes to his girlfriend's place and finds her in bed with another man. So, he goes to stay with his friend, Nick, in another town and gets mugged along the way.
Get the picture? Slevin's not having a good day. But it's far from over. Slevin arrives to find Nick isn't home, but since Nick was expecting him and the apartment door was open, Slevin goes in and gets himself cleaned up. That's when things go from bad to worse.
Turns out, Nick owes two different gangsters a lot of money. Men show up at Nick's apartment and find Slevin. They think Slevin is Nick. Since Slevin lost his wallet when he was mugged, he doesn't have his I.D. to prove he's not Nick.
The two gangsters that Nick owes money to are at war with each other. Because Nick owes them so much money, the gangsters decide that instead of having Slevin pay back what Nick owes, they want Slevin to kill for them.
It's a fun movie and hilarious.