The Day After Christmas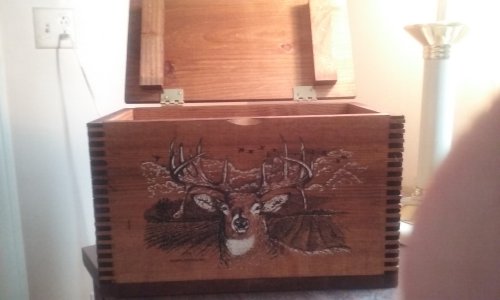 Christmas came and went. I got a few gifts. A pan, socks, towels, a flannel shirt, smoked sausage and cheese, a couple boxes of chocolates, a battery powered lantern, and this wooden box here.
I really like this wooden box. The painting on the front is real impressive too. The handles on the sides are pieces of rope. It measures 16 inches long, 9 inches wide, 10 inches high and 8 1/2 inches deep. A good sized box.
I don't know what I'll keep in it. Any suggestions? I don't print up copies of my manuscripts anymore, so that's not an option. But this looks like a box meant for holding things of importance, things that are special to me.
It makes me wish I had a collection of black powder pistols, because that's where I'd keep them. Or maybe a single-action .45 LC pistol, preferably one made by Colt, with its leather holster and bullet loaded belt. I'd like to add those guns to my collection some day, but don't know if it'll ever happen.
But something needs to go in this wooden box.