Heart-Shaped Box, by Joe Hill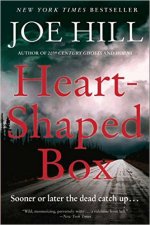 It's hard to read Joe Hill's Heart-Shaped Box without thinking about the Nirvana song with the same name, but I suspect that's what Hill intended. This book mentions several rock stars and bands. Hell, the lead character's dogs are named after Bon Scott and Angus Young. It's a horror novel that pays homage to rock 'n' roll.
Heart-Shaped Box is the first Joe Hill book I've read. I have to say, Joe Hill is just as talented as his dad. Their styles are pretty similar, a lot of free flowing wordage that keeps the reader engaged.
Jude Coyne is a rock star, though he hasn't recorded anything in the last few years. He's living in a farmhouse in New York with his girlfriend, Georgia.
Jude has a dark hobby. He collects occult items, like a skull, a noose that was used to hang a man, a witch's signed confession, things like that. When Danny. Jude's assistant, tells him that someone is selling a ghost online, Jude decides to buy it even though he thinks it's a joke.
But the ghost arrives. Jude finds out that the ghost is the stepfather of his former girlfriend. The ghost wants Jude dead and anyone who tries to help him.