Soul's Blood, by Stephen Graham King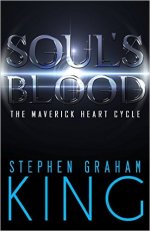 There's lots of action in this new science fiction novel by Stephen Graham King. Soul's Blood doesn't begin with an explosion, but with a comfortable flow that leads to excitement. With rolling prose, Stephen settles you into the environment with ease and brings his characters alive.
Keene and Lexa-Blue are in the space shipping business. They haul merchandise through space from one port to another, but they also have a reputation for being very skilled fighters. Their ship is the Maverick Heart, but it's more than just a ship. The Maverick Heart is also the body and mind of Vrick.
Think of Kitt from Knight Rider. Vrick is the ship. Ey thinks, ey talks, and ey helps Keene, Lexa-Blue and their friends. If Vrick was human, I imagine ey would wear a leather jacket and shades. Just like Kitt, Vrick is cool.
Keene's former boyfriend, Daevin, is like the King of Brighter Light, a city state on another planet. Daevin wants Keene's help in dealing with conflicts between two different cultures that don't understand each other.
At first Keene is not so keen about helping Daevin, but eventually he agrees to, with Lexa-Blue and Vrick coming along. There is much conflict, a romance rekindles, friendships are made and mass destruction is witnessed.
Soul's Blood was a fun read. I was impressed with the world building and I could relate to what some of the characters felt.