The Hobbit, by J.R.R. Tolkien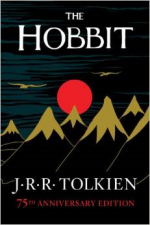 I have seen The Lord of the Rings movies, but I haven't read the books yet. Because I know The Lord of the Rings story began with The Hobbit, I decided to read that first. The Hobbit is a children's book, but it's quite fine for adults. Adventurous and entertaining. Bilbo Baggins is the star character. In The Hobbit he is much younger than he was in The Lord of the Rings. Gandalf is there too.
In The Hobbit, Bilbo meets Gandalf for the first time, along with a group of dwarves. Gandalf and the dwarves talk Bilbo into leaving his quiet, peaceful home and coming with them on an adventure through the wild lands to the mountain where the dwarves' ancestors once lived. There is a dragon guarding a heap of gold that the dwarves want to reclaim and they promise to give Bilbo a share. The journey is long and dangerous. Along the way they encounter trolls, goblins, giant spiders, things like that.
It's a strange world and there's lots of singing. Most important, we find out how Bilbo came by the magic ring that is the cause of so much trouble in The Lord of the Rings. So, if you ever wondered about that, The Hobbit is the book to read.