Holsters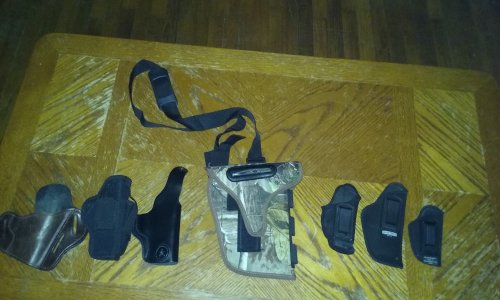 The big camouflage holster in the center is a sling that crosses my body from shoulder to hip. It's designed for carrying big revolvers that have scopes on them. I use it when I want to carry my single-action revolver in the field or woods. This holster holds my revolver tight and the flap on the top is unnecessary.
The three holsters on the left are OWBs. The brown leather one is for my snub-nosed .357 Magnum. Though it's an OWB, it holds the magnum tight against my waist. If my shirt is covering it, you will not know it's there.
The other two are for my 9mm. One is pretty bulky and would never work for concealed carry. The other, the black leather one, is a little better, but the shape of the pistol might still be seen against my shirt.
The three on the right are IWBs. I really like these thin fabric IWB holsters. They fit well in my waistband and are quite comfortable. I've tried other IWB holsters, including leather, and they were very uncomfortable.
One of the IWBs is for my 9mm. Another is for my .380. The third one, the smallest one, I bought it for my .380 and it was too small. But my way of thinking is, if I buy the wrong size holster, instead of returning the holster, I'll keep it and eventually buy a pistol that fits in it.