Rick Vito at the Pix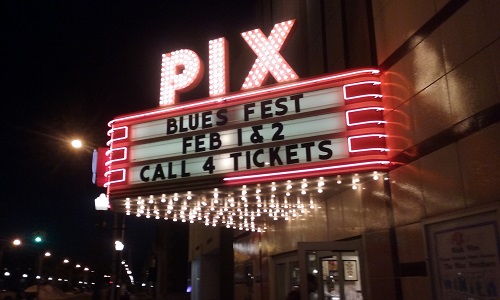 Last time I was at the Pix, E.T. was still phoning home. I don't know if they show movies there anymore, but I hear they have a lot of small concerts. They have a thing called Blues Fest, which I think runs through a weekend each year. Tonight they kicked off Blues Fest with Rick Vito and his band.
I admit, I never heard of Rick Vito before I saw a Facebook post from the Pix about a month or two ago. I found out that he had played with Fleetwood Mac for a time. I have heard of Fleetwood Mac, but I really don't know if I've heard any of their music. I guess Vito has played with other musicians and bands I've heard of, but I don't know if I'd heard Vito himself.
I wasn't sure if I'd like his music, but I wanted to give him a chance and I'm glad I did. I was pleased with the music. Some of the songs were so beautiful, they almost put me to sleep. There were rockabilly songs too. But the band kept to the theme, Blues Fest.