I Wasn't Prepared to Hunt Today
I hunted Thanksgiving morning, but didn't see anything. I didn't hunt yesterday because my brother, my nephew and me were helping my dad put up a storage shed. We didn't finish yesterday, so I wasn't planning to hunt today either. I didn't take my hunting gear over to Mom and Dad's today.
We called it a day on the shed at around 2 PM. I went out to my hunting ground to put down some carrots and swap the trail camera's memory card. That was all I was going to do today.
I got back to the house. We had the Michigan-Ohio State game on., which I had planned to watch today. The Buckeyes are Michigan's most hated foe. I rarely miss the Michigan-Ohio State games. I get very emotional during these games and often lose my temper.
Michigan fans see the Buckeyes the same way the Red Sox see the Yankees. The rivalry isn't just for fun,  we have very dark feelings for each other. Each wishes the other would fall off the edge of the Earth.
I put the camera's memory card in the computer. I was looking through the pictures that the camera took over the last couple days and I saw this.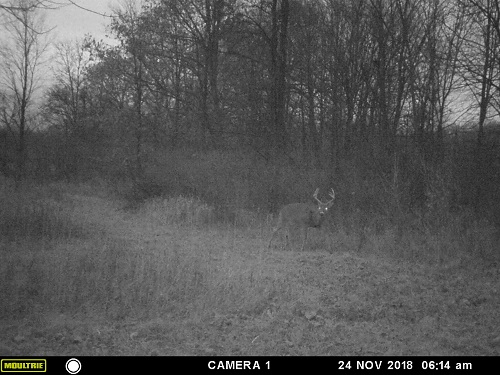 The clock says 6:14 AM, but the clock is wrong. The camera got a picture of me when I was swapping the memory card, so I was able to figure out that this picture was actually taken around 4:30 PM yesterday.
The picture is a little blurry, but I think the buck is at least ten-points. He's big, too. When I zoom in, I can see how fat he is. My guess is, he weighs more than 200 pounds, maybe close to 300 pounds. This might be that massive deer I saw a couple years ago.
If I had been out there yesterday and assuming the buck didn't detect me, he would have been right in my line of fire. He posed for this picture in the exact spot that I want the deer to be when I shoot it.
So, when the Buckeyes scored again and things weren't looking good for Michigan, I decided I'd rather be hunting. I had my kill tags in my wallet and I borrowed an old orange hunting vest that my dad has. I didn't want to use buckshot and we only had 20 gauge slugs. So, I used my brother's old break-action 20 gauge. He left it behind when he moved out of my mom and dad's house.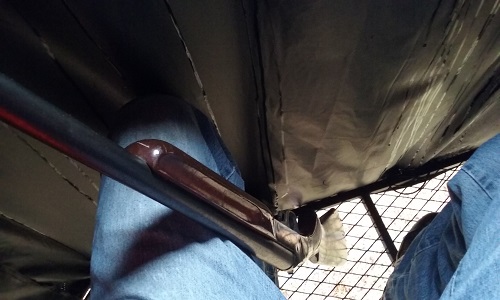 The barrel on my brother's 20 gauge is about a foot longer than the barrel on my 20 gauge, and I reckon it gets better distance. But I didn't see any deer today. I'm going to try getting out there tomorrow morning. The trail camera has gotten several pictures of bucks, mostly six and eight-points. I'd be happy with either of those. But that fat, ten-point buck, that's the one I really want.