Made in L.A.: Stories Rooted in the City of Angels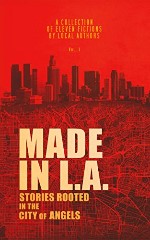 Made in L.A. is an anthology of stories rooted in Los Angeles. I don't think all of the authors are currently living in L.A., but I believe they all had at one time or another. I picked up Made in L.A. feeling like I would gain insights on life in the City of Angels and, well, I wasn't disappointed.
The first story is a novella by Allison Rose, called Between Broken Pieces. I admit, at the start, I was put off by the female character who was "maybe" taking pleasure in being sexually assaulted. That seemed like the kind of thing a dudebro would write and it gave me a what-the-hell moment, but I kept reading and soon that scene was making sense.
Between Broken Pieces is a story about a young actress named Mallory Braun. Mallory is a big hit and she has a new movie coming out that everyone is excited about. There are a few different point-of-view characters who all want something from Mallory.
I came away from Between Broken Pieces feeling incredibly impressed. It's a very good story. One that shows the dark side of Hollywood, in such a way that you can't help but be dragged along. It made me think of the two Coreys and many other actors and actresses who found themselves caught in Hollywood's web of tragedy..
We meet Sara in Gabi Lorino's Going with the Flow. Sara is stressed over her life in Los Angeles. She had come from the east with hopes and dreams, but stability is hard to find. Going with the Flow is well done, and I learned a little from it. For one thing, I didn't know Angelenos called their interstates the Two, the Five and the…. You get the idea.
Another story by Gabi Lorino is Wild Irish Rose. This one was something else. Made me think about getting old and how time is running out, and that there's still so much I want to do.
Cody Sisco has three different stories in Made in L.A.. Sisco's stories are Salt in the Hell Mouth, Little Woman and Unquiet Baggage. They're  fantasy stories and quite good. I especially liked this quote from Little Woman, "May everyone be treated with respect and empathy, and justice meted to those who deserve it, be they men or women."
Chromosome Circus, by Amy Sterling Casil, is a bit weird but entertaining. Andre Hardy's Negro in a Hot Tub is impressive and gives you something to think about.
No Vacancy, by Bonnie Randall, started off feeling like it would be a mainstream-general fiction thing, but eventually turned into a creepy, dark fantasy-ghost story.. A very gripping tale, it is.
Jude-Marie Green brings us Endless Summer. Endless Summer is a romantic science fiction about three friends at the beach. It's full of music that I can almost hear. I found myself caught up in Kim's big moment near the end.
Dry Bones, by Dario Ciriello, is a story about a woman who went missing two years earlier. It's a  good read, creepy and interesting. The writing is so smooth, at times I forgot I was reading and felt as if I was in the story.
Usually when I review short story collections and anthologies, I don't put in a word about each individual story. I'll often just make a wrap that covers the entire collection. This is because I feel like I'm saying the same thing over and over again when I write something about each story in the collection. But I felt moved to make an exception for Made in L.A..
What it really boils down to is, all the stories are good and I have no complaints. Some I liked better than others, but there isn't a single story in this anthology that I disliked.