Suck & Blow, by John Popper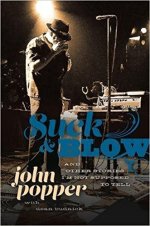 I've made it no secret how much I love Blues Traveler. Their music really speaks to me and I can relate to several of their songs. When I found out John Popper had a book out, I promptly added the title to my to-read list.
You know, I always thought I would like John Popper as a person. After reading Suck & Blow, I think that if Popper and I ever found ourselves in a conversation, we would agree on almost anything we discussed. It seems that Popper and I have a lot in common, socially and politically.
Suck & Blow is about Popper's life. Growing up, discovering the harmonica, the creation of Blues Traveler and the road to success, and the ups and downs that come with the territory, his relationships and so on. In some ways, the book gives me hope.
The Mountains Win Again is one of my favorite songs. It was written Bobby Sheehan, the only Blues Traveler song he wrote entirely on his own. It's about a girl he was in love with, but their relationship didn't last.