Berlin Embassy, by William Russell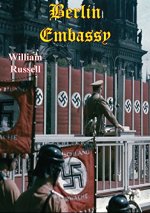 The first edition of Berlin Embassy was published on November 30, 1940. At the time, World War II had been going on for over a year and would continue for another five years. The Holocaust had not yet begun, but it was getting underway. Adolf Hitler had been in power for six years and Nazi Germany was well-established.
William Russell was an American diplomat who lived in Berlin from 1937 until 1940. He shares his experiences and observations. Germany was a nation divided by those who followed Hitler and those who did not.  As a diplomat, Russell interacted with people who knew Hitler personally and their accounts make Hitler out to be a self-worshipping, egoistic monster.
Russell also interacted with many common people, members of the Nazi Party and the Jewish.
Remember, the book was first published in 1940. William Russell died in 2000. Berlin Embassy was not intended to reflect what's happening in the United States today and yet it might as well have been. There's the same attitudes, just substitute the Muslims for the Jews. Propaganda is everywhere. Donald Trump has the same personality traits that Adolf Hitler had.
Does this mean the United States will take the same path Nazi Germany did? Let's hope not.