Siege, by Gustavo Bondoni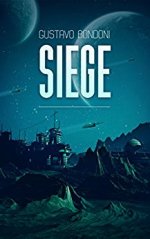 In the far future, what's left of the human race is hiding beneath the surface of Crystallia. They have remained undetected by their enemies for seventy-five years. When an Uploader craft lands on the moon not far from Crystallia, old fears resurface and the colony prepares for war against the more advanced enemy.
Gustavo Bondoni's Siege is a fun book. The characters are believable and the story is well-developed. I can see a possible spinoff from the epilogue and I wonder if Bondoni will make it happen.