Finding Fish, by Antwone Fisher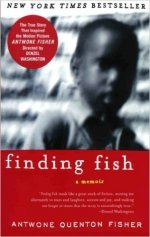 I haven't blogged in over a week. Been failing to get to the end of my check list. I just finished reading Finding Fish, by Antwone Fisher, so here's my review..
Finding Fish is nonfiction. Antwone Fisher tells the story of his life as a foster child in Cleveland. From a very young age and until his late teens, Antwone was fostered by a family that abused him and two other foster children in their care.
It's a very emotional story. It brought tears to my eyes. Thank God for the United States Navy. The Navy not only gave Antwone a home when he'd finally left his foster parents, the Navy also helped him recover.