My First Night Back and the Tigers Win It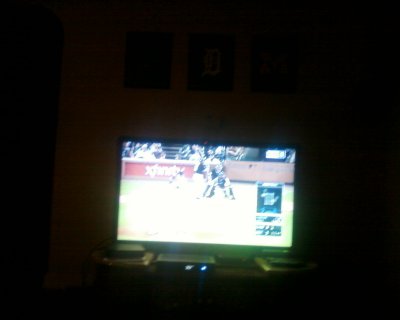 I've been without cable TV for a couple years, which meant my sport watching was reduced to the dire minimum. I don't know how I survived. For the most part, I'd just keep an eye on the box scores and the standings, but it wasn't the same as watching live games.
Well, I just got cable TV back today, in time for the Tigers-White Sox game. There's some new faces on the team, but some of the old ones are still there too.
I was surprised and disappointed to see Alex Avila is no longer with the Tigers and is now playing for the White Sox. I found myself rooting for him whenever he stepped up to bat and I wasn't the only one. Near the end of the game, the camera caught a kid wearing an Avila Tiger jersey. Yeah, we remember you, dude.
It looks like Ausmus still has the top three sluggers in the same order. First Miquel Cabrera bats, followed by Victor Martinez, followed by J.D. Martinez. I have seen that order function very well in the past and I reckon it still functions well.
The Tigers are currently in second place. In order to catch up to Cleveland, the Tigers need to win more games than they lose, and hope Cleveland doesn't win too many more. Cleveland is leading by four. It looks like a hard, unlikely feat, but just maybe the Tigers can do it.
Tonight's game was a little tense. The White Sox were ahead for most of the game. but in the bottom of the eighth, Jarrod Saltalamacchia hit a home run, scoring two runs for the Tigers. That put the Tigers ahead of the White Sox, finally.
The White Sox did not score in the ninth and the Tigers won, 4-3.
Thank you, Jarrod Saltalamacchia.